Due to road damage and lack of electricity, Pacific Union will be closed today. We will resume as normal tomorrow. Please stay safe. Debido a daños en la carretera y falta de electricidad, Pacific Union estará cerrado hoy. Reanudaremos con normalidad mañana. Por favor, mantente a salvo.

Good morning. A couple schools in our county have made the decision to close today. We are in the process of gathering more information and will make a decision by 6:45. Buenos Dias. Un par de escuelas en nuestro condado han tomado la decisión de cerrar hoy. Estamos en el proceso de recopilar más información y tomaremos una decisión a las 6:45.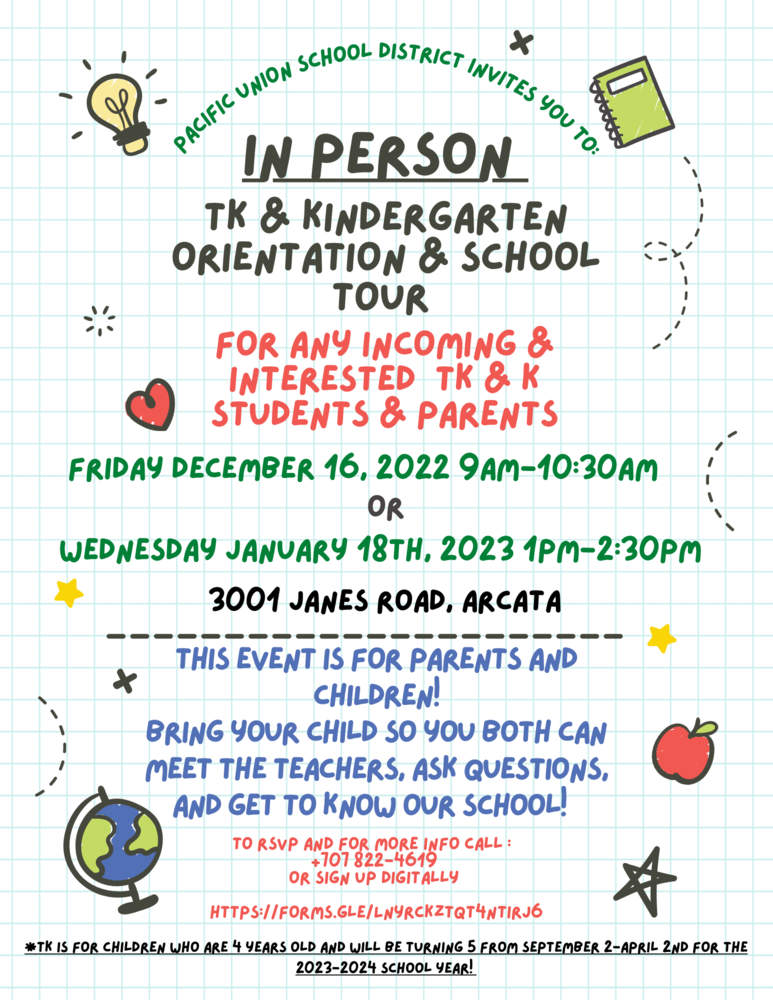 Pacific Union DELAC (District English Language Acquisition Committee) is raising money to offer baile folklorico classes and more for Pacific Union students. Drive through dinner tickets are available this week. The dinner includes 2 enchiladas (chicken or vegetarian), rice, beans, water, and a slice of pie (pumpkin or apple). Tickets are presale only and available this week. The drive through dinner will be on Friday, December 9th, from 4:00-6:00. What a great opportunity to have dinner prepared for you while supporting our school!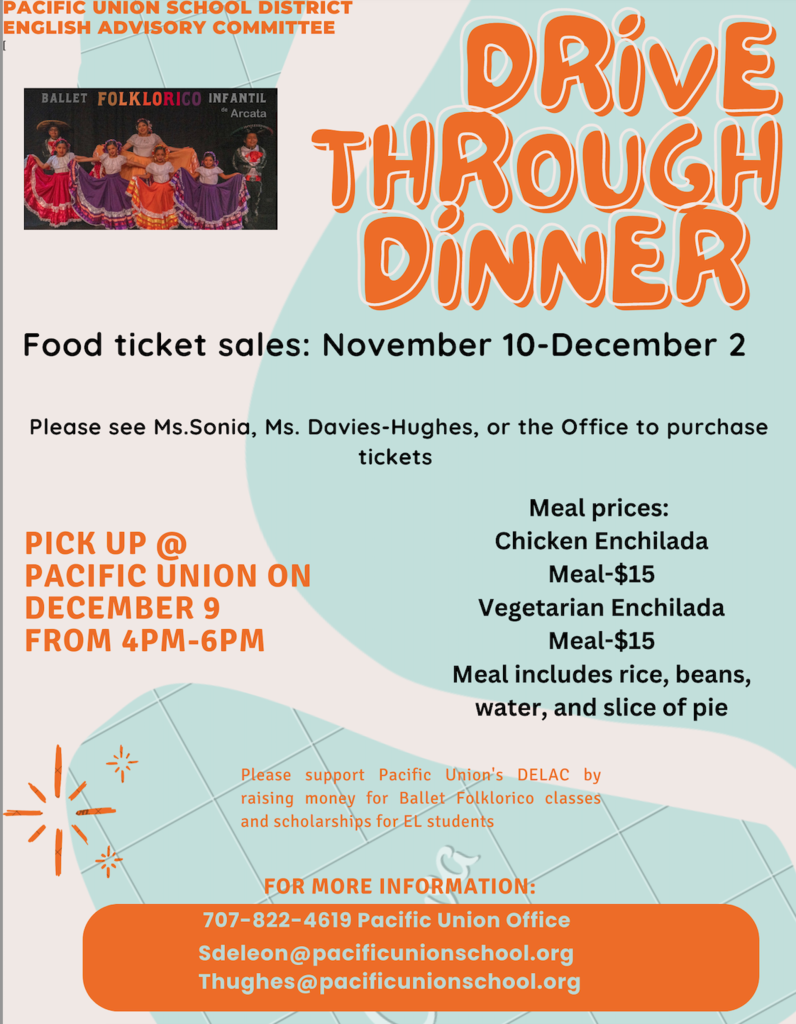 Please remember that tomorrow, 11/11, is Veterans Day and there is no school. Next week is parent conference week with each school day ending at 12:35.

Do you need a COVID test for your child? Our office has them available to ensure the safety of our students. Please don't hesitate to come pick up tests.

Transitional Kindergarten and Kindergarten orientation are coming soon, so please mark your calendars! Tuesday, 8/23, from 12:00-1:00

Save the Date! Junior High Barbecue and Information Night 7th and 8th Grade Families Monday 8/22 from 5:30-6:30

The 2022-2023 school year calendar has a typo, stating that the 2nd trimester ends on February 10, which is incorrect. The calendar will submitted to the school board at the August board meeting to address this error. Please note the second trimester ends on March 10.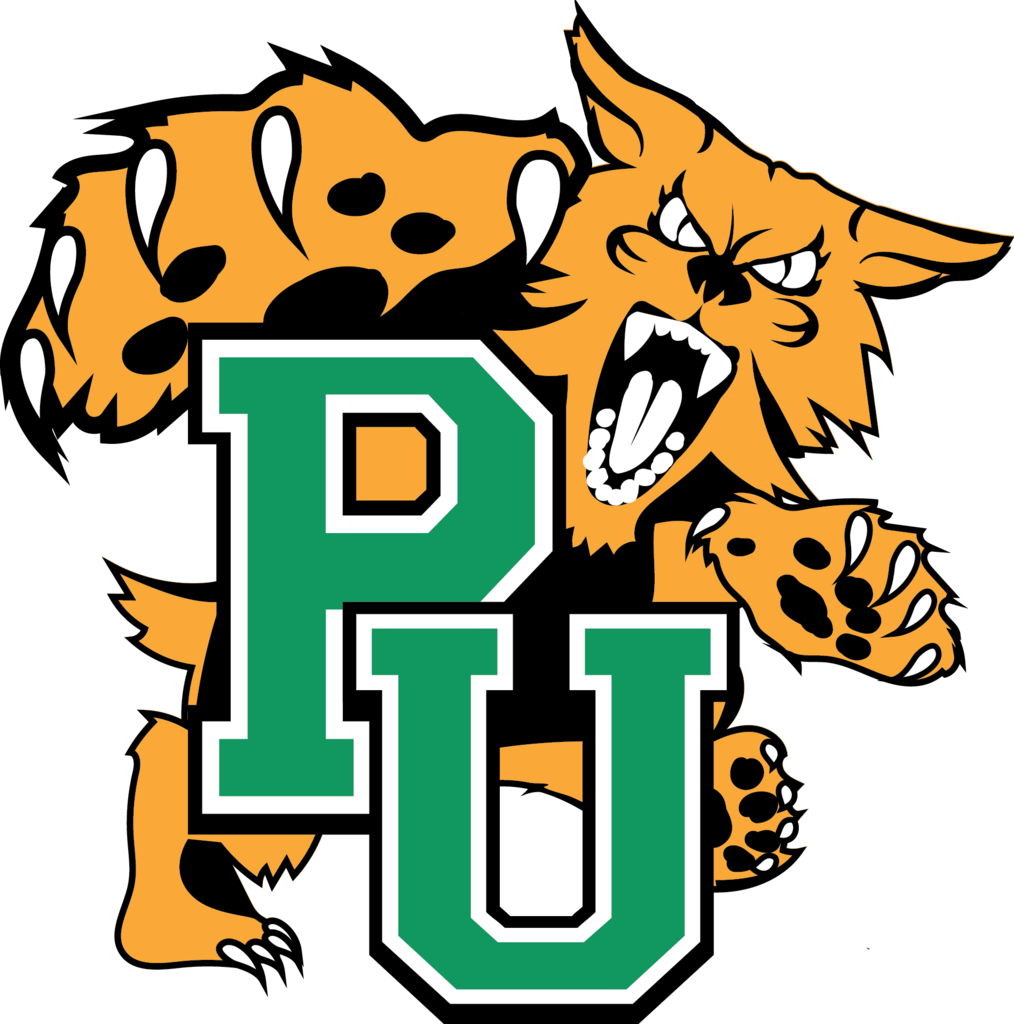 An update letter (English and Spanish) from Superintendent McBride on recent state announcements regarding masking in Schools.
https://5il.co/16gyh

Check out these awesome kindness flags created by our Wildcats that adorn the entryway to school!